The World Without Altgate
No, this blog is not going anywhere.  I was just looking at the 2008 Google Analytics data for Altgate.  It is an amazing tool.  I wish I had installed it when I first created this blog, but alas I
didn't so I only have data starting in February of last year.  It's mildly disturbing that Google gets to keep all of that data, but I suppose it's a fair trade since the service is free.
Overall, 2008 was a great year of growth in traffic.  At the beginning of the year, there were just about 500 unique visitors per month and by December that grew to nearly 10K.  There was a similar growth in terms of RSS subscribers, finishing with about 750 (although Feedburner "lost" about 400 of them this morning which I assume will be "found" tomorrow).
One metric that jumped out at me is the global reach.  I was amazed to discover that of some 200-ish countries in the world, there has been at least one visit from each except for just 77.  Sure most of the traffic was from the US (about 73% of total unique visits) but there was also traffic from all kinds of places like India (2.3%), Germany (1.5%), Australia (1.4%), Slovenia (0.7%, who knew!) and Israel (0.6%).  Below is the complete map of the countries still without a visitor to Altgate…if you know someone there send them a referral!  I'll update you all when I get the list of those without Altgate down to a dozen or so.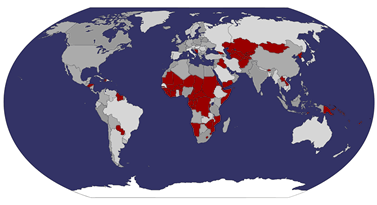 Afganistan
Haiti
Rwanda
Barbados
Honduras
Saint Kitts and Nevis
Benin

 

Iraq
Saint Lucia
Bhutan
Kazakhstan
Samoa

 

Bosnia & Herzegovina
Kiribati

 

San Marino
Burkina Faso
Korea, North
Seychelles
Burundi 
(Urundi)
Kyrgyzstan

           

Sierra Leone
Cameroon
Laos

         

Solomon Islands
Cape Verde Islands
Lesotho

 

Somalia
Central African Republic
Liberia
Sudan
Chad
Liechtenstein
Suriname

  

Comoros
Maldives
Swaziland
Côte d'Ivoire
Mali
Tajikistan
Dem. Rep. of Congo
Marshall Islands
The Gambia
Djibouti
Mauritania
Timor-Leste
Dominica
Mongolia, Rep.
Togo
El Salvador
Montenegro
Tonga (Nukualofa)
Equatorial Guinea

 

Mozambique
Turkmenistan
Eritrea
Myanmar (Burma)
Tuvalu
Micronesia
Namibia
Uzbekistan
Fiji
Nauru
Vanuatu

 

Gabon
Niger
Vatican City
Georgia
Palau, Republic of
Yemen
Guinea

 

Papua New Guinea
Zambia

 

Guinea–Bissau
Paraguay
Zimbabwe

 

Guyana

 

Republic of Congo
Lastly, something that Google Analytics doesn't do is allow you to see where visitors are going when they leave your site.  You can see which page they left from but not where they went.  This feature is rumored to be in development but I couldn't get it even with the custom reporting.  Anyone have tips on this?