White Collar Crime Spree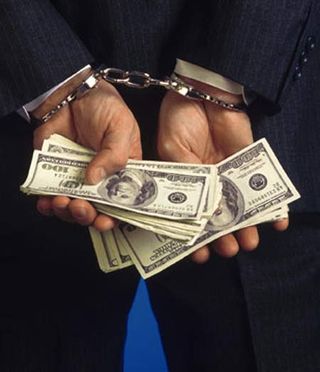 What is going on with the rash of "white collar" crime?
Bernie Madoff.  The 70 year old "lion" of Wall Street is arrested after confessing to what the SEC describes as a $50 billion Ponzi scheme.  Over nearly 50 years, Madoff built a trading and asset management powerhouse…apparently on a foundation of shifting sands.  According to the SEC complaint:
"…investors' losses came from the firm's asset-management arm, which Mr. Madoff ran on a separate floor of the firm's offices. These employees said Mr. Madoff kept the financial statements from the firm under lock and key and was "cryptic" about the firm's investment advisory business, according to the complaint."
Kept the records on a separate floor under lock and key?  Cryptic?  How does this not sound fishy to folks working there?  What was this guy thinking?
Marc Dreier.  Founder of New York law firm Dreier LLC bilked hedge fund investors out of nearly $400 million by selling bogus securities while impersonating other people.  Dreier is a graduate of Yale and Harvard Law School.  He is apparently the sole equity owner of this 250 attorney firm and reportedly spent $40 million on artwork hanging on the law office walls.  Come again?
Rod Blagojevich.  Governor of the great state of Illinois caught in giant corruption scandal.  The list is long, but the coup de grace was his attempt to auction off the US Senate seat vacated by President-Elect Obama.  Subtle.
Paul Johnston.  40-old founder and CEO of CRM software startup Entellium raises $50 million from a list of blue chip venture investors who later learn he was cooking the books (overstating revenue by $400K per month since 2003).  Apparently the CFO was in on the act as well.  Great.  Nice teamwork guys.
Del Biaggio.  Biaggio is a venture capitalist (founder of Sand Hill Capital) and part owner of NHL team Nashville Predators is and using investor capital for personal expenses.
The list goes on.  These are not low-level hacks, these are guys that could play a villain in a Superman movie.  Initially I was thinking these were crimes driven by financial distress, but that can't be as some of these scams have been going for years (decades?). I think it's just poor ethics.  It reminds me of Milken and the go-go 80's described in Predator's Ball and made famous in Wall Street.
It's time to step up folks.  This kind of corruption has no place in our world.  Don't do it and don't tolerate it.