Great Startup Event In Boston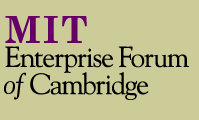 Last night I was a panelist at the Startup Clinic put on by the MIT Enterprise Forum here in Cambridge.  These events are a great format.  About 30 people get together and over dinner founders/entrepreneurs give their 20-minute pitch and then the audience discusses it at their table.  The panelists then give feedback based on their own experiences as well as the discussions at the table.  My fellow panelists were serial entrepreneur Gary Ambrosino, PWC Partner Jason Kelly and executive search guru Clark Waterfall who moderated the event.
Apparently these clinics (and the forum) have been going on for nearly 30 years.  The audience (at least at this one event I went to) is a great mix of new and old from the local startup ecosystem (entrepreneurs, investors, academics, service providers and the like).
The companies presenting last night were
Voltree
and TripMetric.  I won't go into a lot of detail because the companies shared a lot of information and I'm not sure how much or little to share.  Suffice it to say, however, that both companies are very cool and have real potential.
I highly recommend checking out the MIT Enterprise Forum and their events.  I'll be going to more so hopefully I'll see you there!